Service overview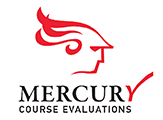 The Mercury online course evaluation system allows students to complete end-of-course evaluations for all lecture, lab, and seminar courses with an enrolment of 5 or more students. Course evaluations submitted through the Mercury system are completely anonymous.
Course evaluations may be used, as one indicator of teaching effectiveness:
To help instructors improve the future delivery of courses;
To inform students about courses and instructors;
As a component of the teaching dossier; and
To help administrators and faculty committees in their decision-making processes.

---
Who can use it
Once the evaluation results are available, the following groups can view them, and interact with the system, as described:
Instructors

Instructors have secure access to their course evaluation results only after final grades for the course have been submitted and processed.

They can view full evaluation results (the numerical ratings and comments) for their own courses; they can also choose to grant or deny permission to make their numerical course evaluation results available to the McGill community.

Academic unit heads

Academic unit heads (Chairs and Directors; and Deans of Faculties without departments) have secure access to view full details (numerical results and comments) for courses in the department.

Deans of all Faculties can view numerical results for courses in the Faculty.

Students

Students have access to the numerical course evaluation results only when the following two conditions are met:

an instructor has not objected to access, and
an adequate response rate has been achieved.

Teaching Assistants

Teaching Assistants have the ability to view the portion of the course evaluation results that concerns them directly in Minerva.

---
How to request & access the service
Instructors and Teaching Assistants
Access to this service is granted automatically to Instructors, Academic Unit Heads and Teaching Assistants.
You can access the Mercury system:
From an email you receive from mercury.info@mcgill.ca when your course evaluations are available
To view previous course evaluation results (up to Winter 2019), visit:
To view previous numerical course evaluation results that have been made available to the McGill community, visit the Reports and Results page on the Mercury website.
---
Mercury Liaisons
Access for Mercury Liaisons must be requested. To obtain access to the Mercury Online Course Evaluation system, please send your McGill ID and your Academic Unit Head's approval to the Mercury System Administrator.
---
Delegates
If an academic unit head wishes to authorize a delegate, it is important to keep in mind that they will have complete access to all numerical results and written comments for courses offered within the academic unit.
To authorize or remove a staff member as a delegate, complete the Authorize or remove a delegate webform. Please update your delegate authorization should staffing responsibilities change.

---
Cost
There is no cost associated with this service.

---
Availability
When are course evaluation questionnaires available to students?
Please see the Evaluation periods page on the Mercury website
When are course evaluation results available?
Course evaluation results are available to Instructors, Teaching Assistants, and Academic Unit Heads after final grades are submitted and processed, and the evaluation end date has passed.
Results are made available to students on the following dates:
Fall evaluations: March 1 of the following calendar year
Winter evaluations: June 1 of the same calendar year
Summer evaluations: October 1 of the same calendar year.
Note: Results are published to the McGill Community if the following conditions are met: 

---
Frequently asked questions
None available.

---
Best practices & policies
View strategies to encourage student participation:

---
Training & documentation
Self-serve resources:
Mercury Online Manuals for
See also: Mercury for Students

---
Support
For technical support, contact the IT Service Desk
For questions regarding course evaluation content, process or policy, email mercury.info@mcgill.ca.