OVERVIEW
Target audience: Entire McGill community.
The McGill community has many options for both self-service and full-service IT support. From making requests or reporting incidents to software and hardware support, the IT Support Site and IT Service Desk are here to help you with your IT needs. 
See Getting Started with the IT Support Site for more information on using the many self-service IT help features available, and see *About: IT Service Desk for more information on the IT Service Desk.
---
In this article:

---
How to use the IT Support site:
The IT Knowledge Base contains a wealth of information, FAQs, and self-help resources for McGill's IT services. To use the knowledge base, click Browse Knowledge  one the top menu bar then either enter a query in the Search box, or navigate using the categories to find what you are looking for.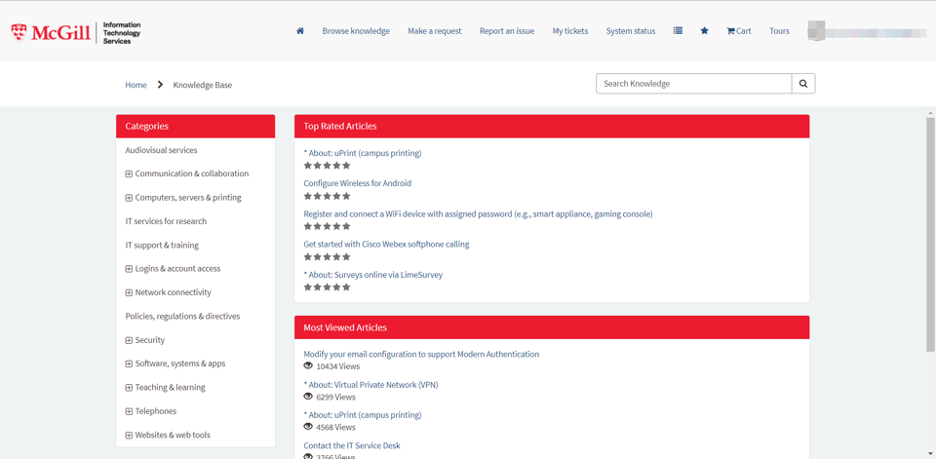 Make a request: Click on Make a request on the top menu bar. To find the correct webform, either use the search field or navigate through the displayed categories.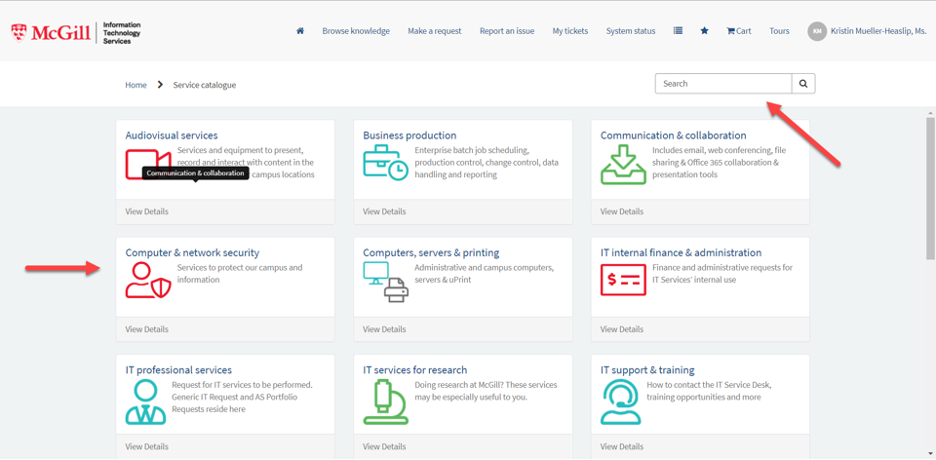 Report an issue: To report a non-urgent issue with an IT service or system, click on Report an issue in the top menu. Choose the affected service from the drop-down list, complete the form and click Submit.


How to reach the IT Service desk
If you cannot find the support you need using the knowledge base, service catalog, or issue report form, you can contact the IT Service Desk directly.
LIVE CHAT

Monday to Friday
9:00 am to 5:00 pm EST

Sign in to the IT Support site. Start a one-on-one live chat with an IT Service Desk agent by using the Click here to start a chat button on the right-hand side of the site. 

TELEPHONE SUPPORT

Monday to Thursday*: 8:00 am - 6:30 pm EST

Friday: Regular hours: 8:00 am - 5:00 pm EST

* In some cases, the IT Service Desk may need to consult with other IT units whose office hours are 9:00 am to 5:00 pm EST.
After hours
To report emergencies, such as a central system failure, call 514-398-3398.

Urgent issues: Contact the IT Service Desk by phone:

Local: 514-398-3398
Toll free North America: 1 833-576-0159
Toll free International: 800-1111 9009 (Note: Only countries on this list are eligible to access the international toll free number.)

WALK-IN SERVICE

Monday to Friday
10:00 am - 6:00 pm EST

In person Walk-in at the McLennan Library 
(3459 McTavish St.)

Location: Main floor, Left of the Library Services and past the elevators.

Monday to Friday (by appointment only)
9:00 am - 5:00 pm EST
Virtual "Walk-in": Book a virtual one-on-one, personalized IT support session. Click here to book an appointment.

Suspicious emails  

If you have already clicked a link or opened a file attachment in a suspicious email, please contact the IT Service Desk immediately by calling 514-398-3398. 

You can quickly report a suspicious email by using the Report Message, Report Junk, or Report Phishing buttons in any Outlook app, including Outlook on the web (https://outlook.com/mcgill.ca). 

Note: If the email is already in your Junk Email folder, you do not need to report it. 

NOTE: Summer and holiday hours
During the summer months (end of June to end of August), telephone and walk-in support close at 5pm; precise hours will be posted during those months.
We are closed during holidays observed by McGill. See statutory holidays listed on the HR website.

---
Your feedback / satisfaction surveys
When a ticket is closed you will receive a quick satisfaction survey. We strongly encourage you to submit feedback, as our surveys are routinely reviewed for quality assurance purposes and aid in the continual improvement of our services.
If you have already opened a ticket and feel that your issue is not being handled properly, please escalate to the director of IT Customer Services.

ADDITIONAL REFERENCES: