Service overview
Endpoint protection applications are used to address security issues on computers. These programs include malware and antivirus protection to automatically detect, correct, and remove malware from a system.  Endpoint protection can also include web protection to ensure secure web browsing. 
This software mitigates business risks related to network downtime and the loss of data and productivity, while protecting against identity theft and security violations. If your Endpoint protection program is kept up to date, it can help reduce the chances of a virus or malware infection, as well as detect and remove these from an already infected computer. 
McGill has deployed the following services to protect McGill's data, devices and systems. 
Cisco Secure Endpoint
Following an evaluation of McGill's ongoing security requirements, Cisco Secure Endpoint (formerly AMP for Endpoints) has been selected as the antivirus solution for the University. Cisco Secure Endpoint is designed to detect and control both known and emerging cyber threats, thus providing an advanced level of protection for the University against IT security events.

Important: Cisco Secure Endpoint for Windows (version 7.5.5.21061) was updated on June 28, 2022. Note that this version of the Secure Endpoint Windows connector is the last to support legacy operating systems Windows 7 and 8, Server 2012, and all 32-bit versions of Windows. For additional information please refer to Supported Operating Systems in the IT Knowledge Base.
In accordance with Section 8.5 of the Policy on the Responsible Use of IT Resources, all computers connected to McGill's network  must run an IT Services-approved antivirus program, and IT Services may deny network access to any computer that is not running an antivirus program, or which is currently spreading a virus. Here are some of the advantages of using a McGill-provided antivirus solution on your computer:
Automated virus definition updates.
Antivirus, malware and spyware protection.
Data theft prevention and other features.
Access to technical support.
Cisco Umbrella
Cisco Umbrella (also known as Cisco Umbrella Roaming Client) is a cloud-delivered security service available to all McGill-owned devices. Cisco Umbrella enforces security policies on roaming devices, such as Windows and Mac laptops, that are outside of the McGill network. It provides protection against threats on the Internet such as malware, phishing, and ransomware. 
As a part of the University-wide cybersecurity measures, McGill leverages a list of websites that may contain content harmful to your device. This list is updated on an ongoing basis and referenced in order to protect McGill's devices and data.   
If a user accesses a potentially harmful website, Cisco Umbrella will display a warning message advising that access to the site has been blocked, and that the user's device has been protected in accordance with McGill's IT security policy.  
For LAN Administrators: Please ensure that all systems within your networks are protected from viruses by installing Cisco Secure Endpoint  and Cisco Umbrella on work computers.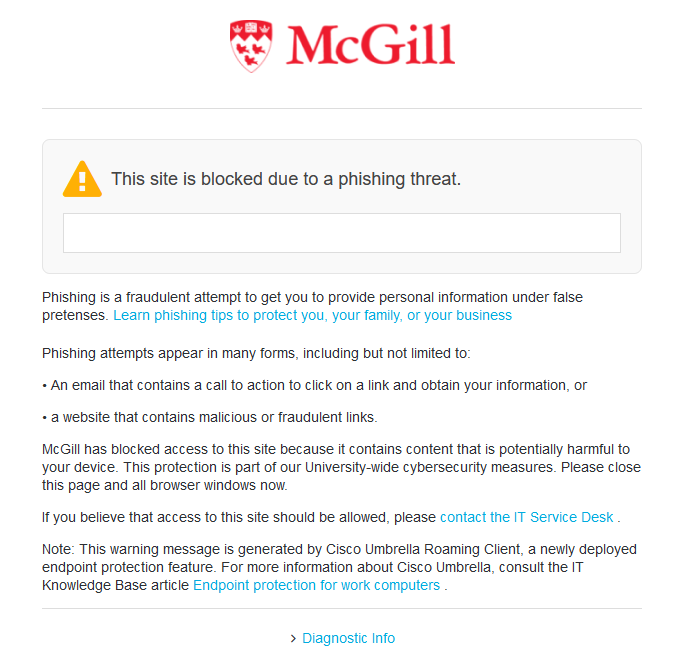 ---
Who can use it
Cisco Secure Endpoint antivirus software is available for all work computers funded by McGill or Research funds. Versions are available for Windows, Mac, and Linux operating systems. For more information on supported operating systems at McGill, please consult the IT Knowledge Base article Supported Operating Systems.
The following scenarios describe how the installation of Cisco Secure Endpoint affects your work computer:
If your computer has been funded by McGill or through Research funds:

The installation of Cisco Secure Endpoint on work computers is centrally supported by IT Services, or by local technical support staff in your department or office.
Note that:


Cisco Secure Endpoint can only be installed on your computer if you are on McGill premises and connected to the McGill network.
Cisco Secure Endpoint will be automatically pushed to most workstations. In some cases, it will be manually installed by local technical support staff.



If you are a McGill employee and you do not have dedicated technical support in your area:

Please install Cisco Secure Endpoint on your Windows or Mac work computer using the instructions below.

If you are unsure about the support available to you, please contact the IT Service Desk. They will provide you with the necessary assistance of direct you to local technical support staff.
McGill does not provide antivirus software for your personal/home computers; however please see our article, Guidance on antivirus solutions for home use.
Cisco Umbrella 
Cisco Umbrella is available for all users of McGill-supported Windows and Mac laptop computers. 

---
How to request & access the service
Cisco Secure Endpoint
If Cisco Secure Endpoint is not automatically pushed to your work computer, please follow the instructions to:
Cisco Umbrella
If Cisco Umbrella has not been automatically pushed to your laptop computer, please contact your local LAN Administrator or the IT Service Desk.  

---
Cost
There is no cost for this service.

---
Availability
Cisco Secure Endpoint runs in the background, protecting your computer at all times.
Cisco Umbrella also runs in the background and protects your computer when outside of the McGill network.  

---
Frequently asked questions
Cisco Secure Endpoint
Cisco Umbrella 
How do I know if Cisco Umbrella is installed on my machine? 


You can find out by doing one of the following: 


On your laptop, look for Umbrella_RC under Task Manager | Services 
Type 'Apps & Features' in your Windows search box and enter "Umbrella Roaming Client".
What should I do if I get the warning message that I have reached a potentially harmful site? 


Close all browser windows after receiving this warning. If you have received a warning for a website that you do not believe should be blocked, please contact the IT Service Desk. 
What happens if I access a potentially harmful website or click on a malicious link while I am within the McGill network? 


While within the McGill network, McGill's built-in infrastructure blocks and protects access to malicious sites. Cisco Umbrella protects your laptop when you are outside of the McGill network.  
Will Cisco Umbrella be installed on McGill desktop computers? 


Cisco Umbrella will only be installed on laptops. 
Please contact the IT Service Desk for more information.

---
Best practices & policies
Virus definitions should be kept up to date in order to ensure optimum protection against threats. Updates will be downloaded at regular intervals on computers running Cisco Secure Endpoint, and so no intervention from LAN Admins or technical support staff is required.
LAN Administrators are advised to install Cisco Umbrella on all laptop computers within their respective areas. If Cisco Umbrella has not been automatically pushed to your mobile computer, please contact your local LAN Administrator or the IT Service Desk.  
For LAN Administrators:
When performing large scale deployments, it is advisable to break the installation process into smaller groups. Doing so will ensure computers are not left unprotected for a lengthy amount of time, and will enable you to identify and resolve install issues faster.
To verify that Cisco Secure Endpoint has been successfully installed for your clients, contact the IT Service Desk.

---
Training & documentation
Not applicable.

---
Support
Contact the IT Service Desk