Service overview
This service provides secure cloud-based file storage and sharing via Microsoft's OneDrive for Business. This is a secure environment where your intellectual property and personal data are protected.
OneDrive allows you to:
Access files.
Sync files with your PC, Mac and other devices for offline access.
Easily share files with others inside and outside McGill.
Control and easily audit who can see and edit each file.
Manage files and folders via the OneDrive web interface and the sync client.
This service is intended to eliminate personal file storage on McGill's central servers. Think of it as your personal drive in the cloud.

IMPORTANT - Information about data security:
Regulated Data - Although OneDrive for Business is a McGill-approved cloud service, where you can store protected and personal data, it must not be used to store certain types of Regulated Data. For example: the usage of Payment Card Information (PCI) is not permitted.

For definitions of the various types of institutional (enterprise & research) data, and guidance on which types can / cannot be stored in OneDrive, see cloud services that have been approved / rejected for McGill use (sign in to view the page)

Protected Data is allowed to be stored on OneDrive for Business; however, the master copy of the final document needs to be saved on a group storage solution (such as D2, Microsoft Teams, SharePoint or shared network drives). This is because when you leave McGill, whether as a graduate, retiree, or otherwise, your access to McGill's OneDrive for Business is terminated, and your files are permanently deleted.
Sharing files - One of the benefits of OneDrive is the ease of sharing and collaborating; however, be sure to only share with people who need to see your file; never share Regulated or Protected Institutional Data using the option where anyone who has the link can access the file. 
File backup and recovery - OneDrive files are backed up by Microsoft. Users have two options to recover files that are accidentally deleted:

Two-Factor Authentication - Enable Two-Factor Authentication (2FA) for your McGill account to make your OneDrive data even more secure.

---
Who can use it
This service is available to active students, faculty and staff members, with the exception of casual staff.

What happens after you leave McGill:
For non-academic staff members, your supervisor will be given access to your OneDrive directory for 30 days following your departure from McGill in order to copy and move any important work-related data to a more permanent McGill-provided storage repository.
For Students and Academic staff (including Professors and Deans), you will lose access to your OneDrive repository after you leave McGill; the timing varies depending on the situation. For details see IT services available after leaving McGill.
See the FAQs for OneDrive for additional information on what happens when you leave McGill.

---
How to request & access the service
Microsoft 365 web interface:
Log into the Microsoft 365 site using your McGill Username and Password at: https://office.com.
As soon as you enter your McGill Username, you will be redirected to McGill's authentication server to sign in.

IMPORTANT:
You need to log in through the Microsoft 365 web interface at least once before being able to access OneDrive from a mobile device.
Once you are in the Microsoft 365 portal, click OneDrive to access your cloud storage space.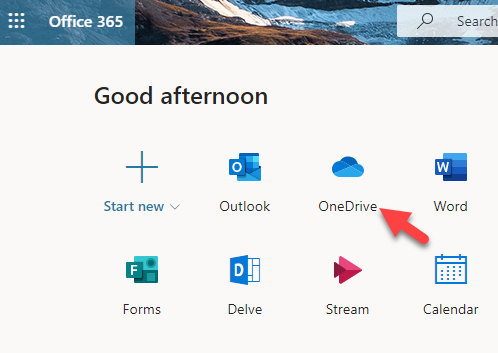 OneDrive applications:
The OneDrive for Business sync application allows you to view and work with files locally on your desktop and synchronizes changes to the web. To install the OneDrive for Business sync app on your desktop, laptop or to install the OneDrive for Business mobile app, visit the Microsoft web site.
---
How to store/retrieve/share files
Using the web interface you can drag & drop files from your computer directly into the OneDrive space. If you have Office 2016 or local version of Microsoft 365 installed you can open and save files directly from the applications to your McGill OneDrive. See the Training & documentation section below for links to self-serve documentation.

---
Cost
There is no cost associated with this service.

---
Availability
The service is available 24 X 7, except during planned maintenance or outages. Check the IT Support home page for announcements regarding service interruptions.

---
Frequently asked questions
Are there any limitations on my usage of OneDrive for Business?
Your usage must be in accordance with the Policy on the Responsible Use of McGill IT Resources and the Cloud Directive.
See all FAQs for OneDrive

---
Best practices & policies
Never give your McGill credentials to another person to allow them access to your OneDrive space, or for any other reason. This is a violation of the Policy on the Responsible Use of Information Technology Resources.
Only share your OneDrive files with people you know and trust. Share with "specific" individuals, rather than creating links that "anyone" can use to access your files. 
Document versioning is helpful to keep track of multiple versions, especially when different people are working on the same document.
All actions made to shared files (view, edit, etc.) are tracked and can be reviewed by you. It is a good idea to monitor these activities on a regular basis, particularly for sensitive content.

---
Training & documentation

TIP:
When using OneDrive on the web, click the ellipsis next to a filename for options.
Instructions on the Microsoft Support knowledge base:
Sync your OneDrive for Business library to your computer:

Videos:

---
Support
For access/authentication issues, and basic assistance using OneDrive for Business, contact the IT Service Desk.
Microsoft Support: